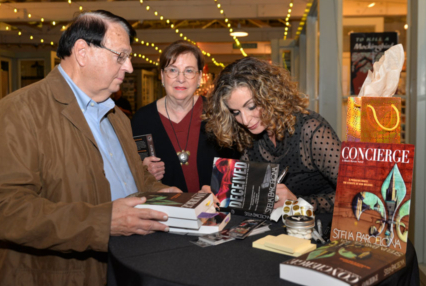 A heartfelt thank you to everyone who helped me celebrate the release of my 4th novel, Concierge: A Black Raven Novel, at the Book Signing and Q&A Session at Garden District Book Shop on November 30th. I loved having a chance to share the personal story that led to the inspiration for Concierge and how it ties into my other Black Raven novels, Deceived, Shadows, and Jigsaw. If you missed the signing, and want an inside glimpse that you won't get between the covers of the novel, the following is a nutshell version of my comments from that evening.
The inspiration for the thriller elements of my stories comes from a variety of sources. In Deceived, I drw inspiration from World War II-era history and created a New Orleans-based mystery. Shadows involves governmental cyber-data collection efforts, while Jigsaw involves international terrorism. In Concierge, I reached into my own past and drew upon a theme that has intrigued me ever since I lived in the French Quarter of New Orleans.
When I would walk out of my door of the Pontalba apartments, I often had to step over young people who were sleeping in the doorway, and saw others sleeping on benches in Jackson Square. I always wondered who they were and why the streets were their best option. I couldn't help but think about how vulnerable they seemed. In particular, there was one young man, with blue eyes, who carried a guitar. I saw him a few times, then never saw him again. It struck me, who's going to wonder about these people if they disappear? That was many years ago, but it planted the seed for the Concierge storyline, and the theme has been maturing ever sense.
Concierge became a story of the comparative vulnerability of characters who live on the streets of the French Quarter and the heroine, who has the resources to hire Black Raven Private Security Contractors for protection. In the story, I provide a fictionalized account of the terror inflicted upon people who fall victim to human trafficking.
The story is told from four points of view –  Andi Hutchenson, a French Quarter artist with a tragic backstory; Gabe Hernandez, a Black Raven agent whose innate happiness provides a beacon of light; Pic, a young street musician who was inspired by that one particular young man with blue eyes who I encountered long ago as he rested in the doorway of my French Quarter apartment building; and the Concierge, a human trafficker. I loved giving life to these characters and creating their story.
I hope that you enjoy Concierge and that you will share word of my novels with your friends. If you're interested in learning more about the inspiration for my novels, these book club discussion questions provide more about themes that fueled each story.
Signed copies of my novels can be purchased in New Orleans at The Garden District Bookshop; if you can't visit the book shop in person, call 504-895-2266 and they will ship the novels to you. My novels can also be purchased in print and ebook at Amazon.
Happy Reading!

---
Here are photos from the November 30th event – thank you, again, to everyone who came out to celebrate and thank you to Laurie K. Foret Photography for the wonderful photos.
Signing Books
---
---
The Event