My debut novel, Deceived, is based in New Orleans, Louisiana, a city that I've lived in and around all of my life. More than a setting, the city defines the mystery elements, the backstory for the characters, and the logic behind how the story unfolded. Here's a glimpse of some New Orleans-based inspiration:
A History-Mystery, Solved in the Present Day
For Deceived, I reached into the World War II-era and created a mystery that the protagonists, Brandon Morrissey and Taylor Bartholomew, urgently need to solve in the present day. Brandon and Taylor are also intrinsically related to the mystery, as their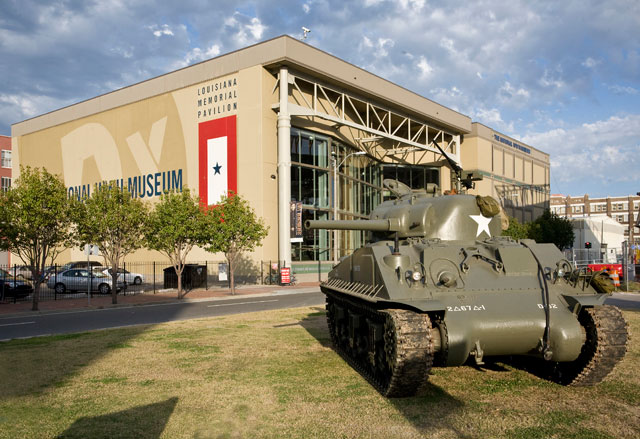 families were on opposite sides of the historical events, with Taylor's grandfather becoming a war hero, and Brandon's grandfather being convicted of treason. For historical inspiration, I visited the National World War II Museum, which is in downtown New Orleans.
A local's tips: If World War II is your thing, you could easily spend a couple of days in the museum. Exhibits are plentiful and spectacular. For the sake of efficiency, spend time on the museum's informative website and plan your visit before going. For me, one of the high points of every visit is to search out the World War II veterans who volunteer there. I love to listen to their stories. I also love to shop in the gift stores. Recently, we went to the museum with our nephew and his children and enjoyed the interactive "USS Tang Submarine Experience" exhibit.
The Heroine is (Garden District) Royalty
The Garden District, a sparkling jewel of a neighborhood, is home to stately mansions set in lush, foliage-filled yards with sprawling oak trees. In Deceived, I imagined that Taylor, a descendant of families that are firmly entrenched at the pinnacle of the New Orleans social hierarchy, grew up in the Garden District and continued to reside there. In the story, her father's mansion is located just a few blocks from her home. Their homes were inspired by scenes such as these, and the photograph that is at the top of this blog.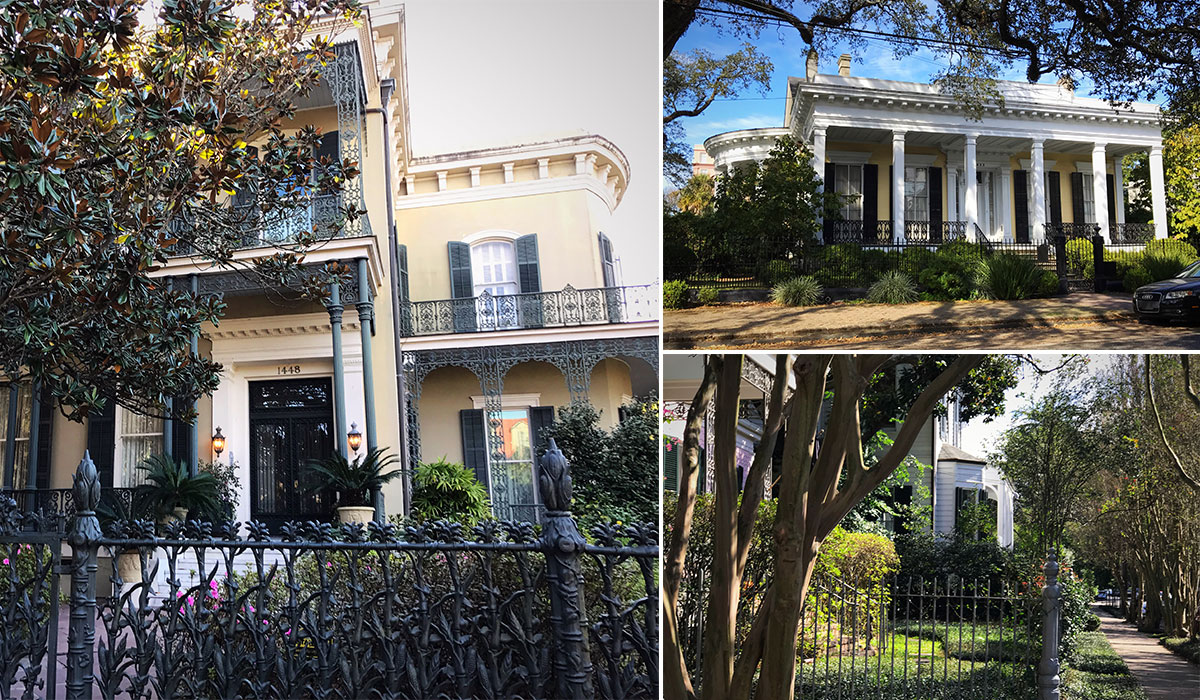 A local's tips: If you're new to the city, the Garden District is just a few minutes by car or streetcar from downtown. On a pretty day, a near perfect way to spend a few daylight hours is to walk the sidewalks of the Garden District while gazing at the stately homes, stroll through Lafayette Cemetery No.1, and have lunch at Commander's Palace. (There are more casual restaurants nearby on Magazine Street if you don't feel like a fine-dining lunch). While you're in the area, the Garden District Book Shop, located at the intersection of Washington and Prytania Streets, is a great source for local books.
The Hero is (Old Metairie) New Money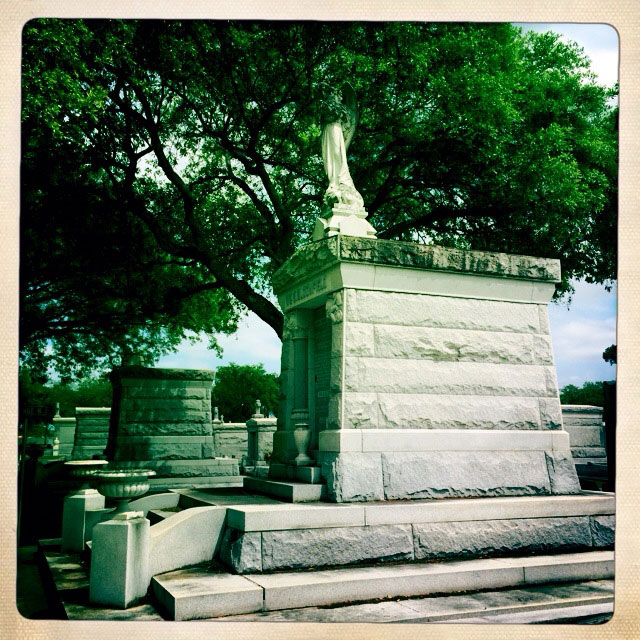 Brandon lives in the suburb of Old Metairie. He's a lawyer for Black Raven Private Security Contractors and he's also had a successful career as a plaintiff's lawyer. No matter how many books I write, Brandon will always be one of my favorite characters. His family history gives him a Goliath-sized chip on his shoulder, and circumstances haven't been kind to him. There's plenty to his backstory. When creating his character, I painted his backstory all over him. Literally. In one scene, Brandon is going for a tension-relieving, evening run that takes him through his neighborhood cemetery, where his deceased wife is buried, shortly after he meets Taylor for the first time.
It isn't that unusual for Brandon's running path to take him through the cemetery. In New Orleans, our cemeteries are sprinkled throughout our neighborhoods, and they're part of the fabric of our lives. The photograph, above, is from the Old Metairie cemetery that I had in mind for the scene while Brandon is running.
A Local's Tip: I've included a link (below, at the end of this blog) to Save Our Cemeteries, a fantastic organization that provides tours of the cemeteries. If you're touring the cemeteries, as with everywhere else in the city, please remember to keep safety in mind.
Water, water, everywhere!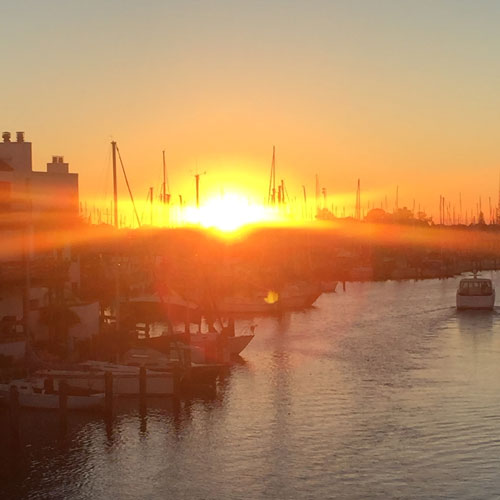 My next slice of New Orleans inspiration comes from the water that surrounds the city. Pivotal scenes in Deceived occur in Lake Pontchartrain, a body of water that borders several parishes and leads to the Gulf of Mexico through the Rigolets. The brackish lake water gets my imagination going. The mystery in Deceived involves World War II-era boat building and an attempt by someone to sell a design to the Germans. Somehow I thought – as I ran through a host of mental What If's – what if the climatic scenes take place on the water? Here is an image of the Lake Pontchartrain, at sunset.
Another scene in Deceived involves the levee of the Mississippi River. You don't have to go far to see the mighty river if you're visiting New Orleans. If you're staying downtown, stroll along Woldenberg Riverfront Park and check out the views. My current favorite place for viewing the river, however, is Crescent Park, which provides fantastic views of the river, the city, and the large ships that glide by. I'm currently writing scenes in Concierge, A Black Raven Novel, that take place in Crescent Park.

A Local's Tips: If you're interested in seeing Lake Pontchartrain, drive along Lakeshore Drive in New Orleans. If it's a pretty day, go to one of the nearby Bucktown seafood houses for a po-boy to go (I love R &O's, roast beef po-boy), then sit on the seawall and watch the boats go by.
Another prime location for viewing the lake is the New Orleans Lakefront Airport, an art deco masterpiece of a building that is undergoing a restoration after floodwaters from Hurricane Katrina nearly destroyed it. The newly-restored murals are magnificent. For a glimpse of the Mississippi River, walk along Woldenberg Riverfront Park, which borders the French Quarter, or head downriver and spend time in Crescent Park. My favorite Crescent Park entrance is at Piety Street. Climb the footbridge that arches over the levee and descend into one of the most spectacular views of the river and the city that you will ever see.
If you have questions about the places I've mentioned here, or any of the settings in Deceived, please comment here, reach out to me on Facebook, or send me an email.
CLICK on these links for more information on places mentioned above: National World War II Museum, Garden District Walking Tours, Save Our Cemeteries, Commander's Palace Restaurant, Garden District Book Shop, Woldenberg Riverfront Park, New Orleans Lakefront Airport, Crescent Park.