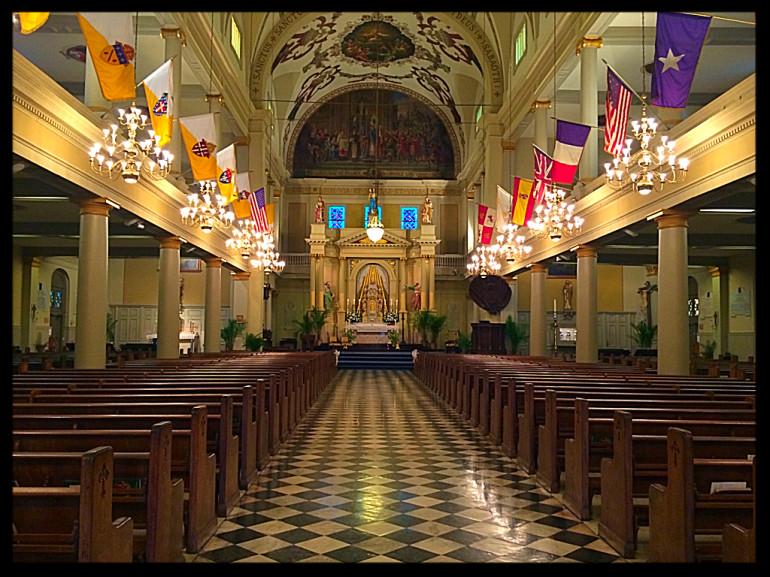 1) See the Quarter s-l-o-w-l-y. Take a pedicab up and down Bourbon, Royal, Decatur, and Chartres Streets (or anywhere else you might want to go), so you get a feel for the architecture, attractions, and quieter, residential areas of the Quarter at a leisurely, effortless pace. If you're having a hard time finding a pedicab, call NOLA Pedicabs and arrange a pickup. http://www.nolapedicabs.com
2) Gaze at flickering gas lanterns at the Museum and Showroom of Bevolo Gas Lights, at 318 Royal Street. Learn about the company that has been in business since 1945, creating the lights that are recognized worldwide as symbols of New Orleans. Walk through the courtyard to see Bevolo's coppersmiths at work. http://www.bevolo.com.
3) Want something sweet? Go to Southern Candymakers (334 Decatur Street), ask for the "original creamy" praline, close your eyes, and taste a bit of heaven. This is a great gift to bring home.  http://www.southerncandymakers.com
4) Eat! For a unique experience, go to Central Grocery (923 Decatur Street), an old-style Italian grocery store. Order the original muffuletta, a sandwich on Sicilian sesame bread with Italian deli meats, cheese, and olive salad. Get a Barq's root beer to sip with your sandwich. While you're at the counter, buy a jar of olive salad to take home (they ship). Also, purchase white candy almonds to eat later. Beware: the line can be long, and there isn't much in the way of table space. It's worth the hassle. On a pretty day, take your sandwich and your Barq's to nearby Woldenburg Park (see # 5) for a picnic.
5) Walk! Put on comfortable shoes, head towards Woldenberg Park, and stroll along the Mississippi River, from the Aquarium of the Americas to the end of the park, and back again. Stop to take photos along the way. http://www.auduboninstitute.org/aquarium/exhibits-and-attractions/woldenberg-park
6) Drink! Mix a cocktail with New Orleans atmosphere at Lafitte's Blacksmith Shop (941 Bourbon Street). Sample literary-inspired cocktails at Backspace Bar & Kitchen (139 Chartres Street). Have a Pimm's Cup at Napoleon House (500 Chartres Street). Sit at the carousel, let the world spin away, and order a glass of champagne at the Carousel Bar in the Monteleone Hotel (214 Royal Street).
7) Need a hangover cure? This cocktail deserves its own category – savor a world famous Bloody Mary from Donna at Le Touche Bar at the Omni Royal Orleans. Be careful – it's spicy! http://www.omnihotels.com/hotels/new-orleans-royal-orleans (the hotel address is 621 St. Louis Street; Le Touche's entrance is on Royal Street).
8) Visit the Saint Louis Cathedral. It's beautiful and open to the public. The photograph at the top of this page was taken inside the cathedral. Brochures are available for self-guided tours. For more information, hours, and a calendar of events, go to http://www.stlouiscathedral.org/tours
9) Shop! Go in antique stores on Royal Street – one of my favorites is Royal Antiques, at 309 Royal Street (www.royalantiques.com); check out artists and their paintings at Jackson Square; and look for souvenirs in the New Orleans French Market (a farmer's market and flea market, http://www.frenchmarket.org).
10) Eat again! Go to Café Du Monde for coffee and beignets (800 Decatur Street). http://www.cafedumonde.com/locations There are plenty other things I would do in the French Quarter, but I've run out of time for this post. What have I missed? Comments are welcome!