To celebrate the release of Concierge, I'm hosting a giveaway that runs from now until October 11, 2017. You might have noticed that the cover of Concierge features a fleur de lis, a universal symbol of New Orleans, Louisiana.
The action in Concierge takes place in the French Quarter and surrounding neighborhoods during a Mardi Gras season that is more tumultuous than the usual prelude to Fat Tuesday. As a nod to the cover and the symbolism of the fleur de lis, I'm including in the giveaway a diamond & amethyst, fleur de lis sterling silver necklace and matching earrings from Ramsey's Diamond Jewelers. I love these pieces! I was tempted to keep them for myself, but it's much more fun give them away.
To enter the giveaway, click the button below, and like and comment on my Facebook post.
Enter the Giveaway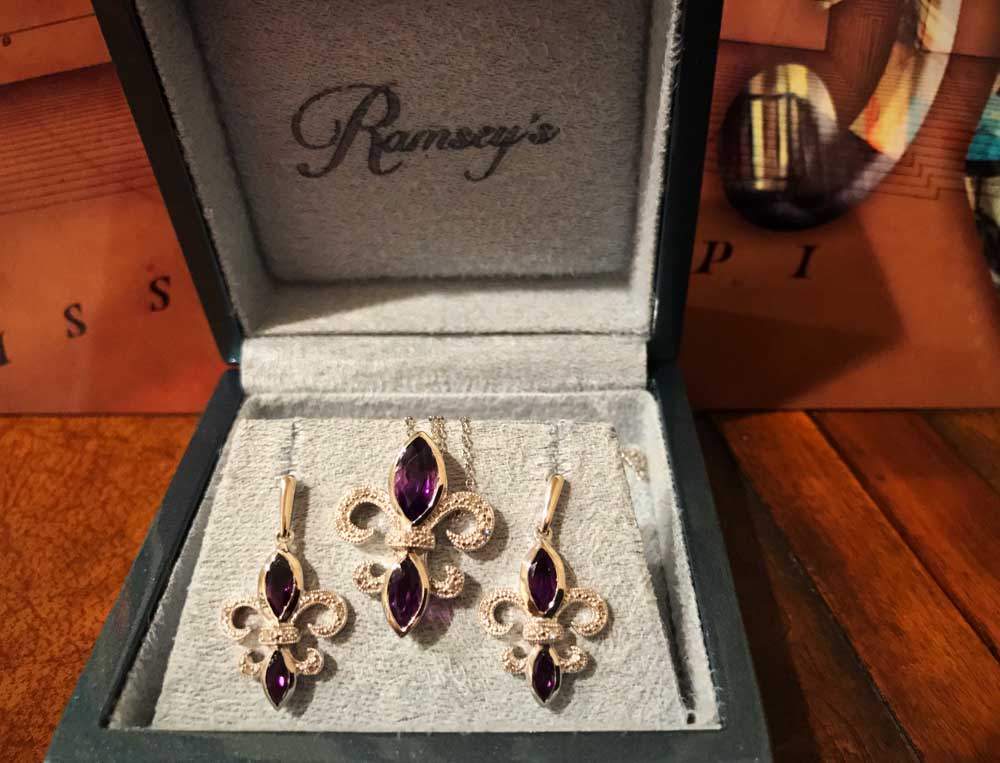 Also, Concierge's heroine, Andi, is an artist, so I've  collected a few pieces from local artists for the giveaway:
Jennifer Ansardi,  New Orleans artist, has designed a "Barceloneta" boudoir tray that showcases one of her mixed media prints (I didn't make up the name!); Kathy Richard, New Orleans artist, has painted a mixed-medium canvas that features words from the Mardi Gras ballad "If Ever I Cease to Love," along with a fleur de lis; and, from Studio Inferno, in Arabi, Louisiana, I've included a hand-crafted, golden-glass fleur de lis paperweight and beautiful glass bookends in a fabulous shade of aquamarine.
Much of Concierge takes place in the streets of the French Quarter and surrounding neighborhoods. Because I love walking the streets of my home city, and want to share those streets with you, I've included in the giveaway a neat book entitled "New Orleans Streets, A Walker's Guide to Neighborhood Architecture," by R. Stephanie Bruno. I'm also including in the giveaway signed copies of two of my earlier novels, Shadows (Black Raven Book One) and Jigsaw (Black Raven Book Two).
Please – share news of the giveaway and the release of Concierge with your friends. I have more information about Concierge, here. As of September 27, Concierge, which is not included in this giveaway, is available in print and ebook at Amazon. It is also available at your local bookseller upon request, and I'll be signing Concierge on Thursday, November 30, 2017, at the Garden District Bookshop in New Orleans. Stay tuned here for more details about the signing – I hope to see you there!

To enter the giveaway, click the button below, and like and comment on my Facebook post.Enter the Giveaway
Closeups of all the goodies in the giveaway: