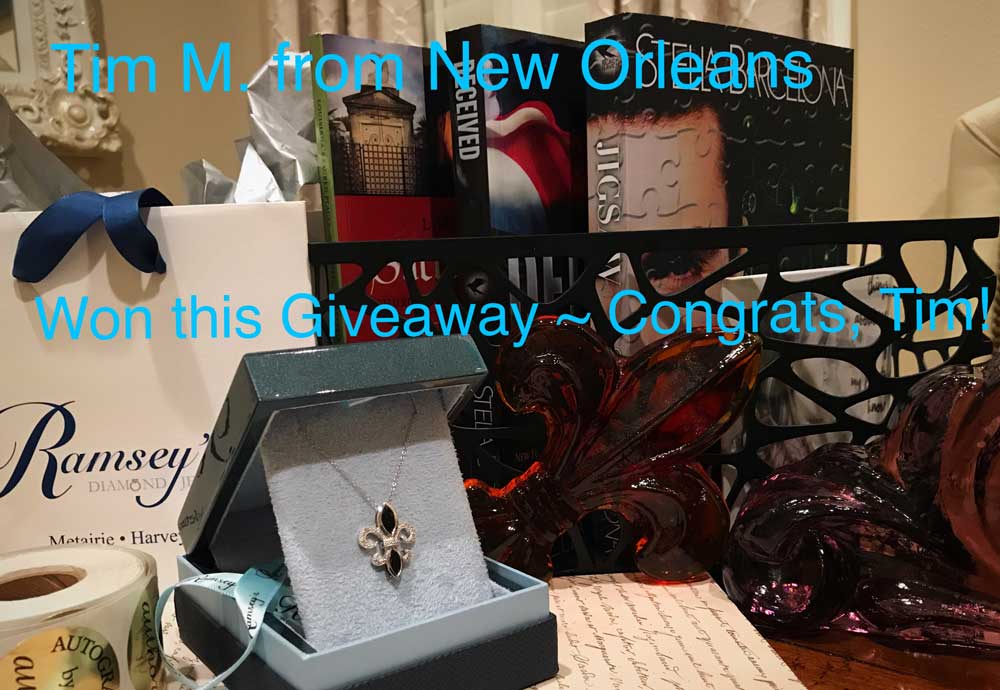 July 28, 2017 update: the cover reveal giveaway has ended. Congrats to Tim M of New Orleans! Stay tuned here for news of more exciting giveaways as  we approach the September 27, 2017, release date of my next Black Raven novel, Concierge.  
I'm thrilled to reveal the cover of Concierge, which will be available for eBook preorder on August 15, 2017, and released in paper + eBook on September 27, 2017. In Concierge, Black Raven returns to my home city of New Orleans, and the cover is an artistic representation of the setting.  To celebrate the cover reveal and the quickly approaching release date, I've put together a giveaway with a New Orleans theme. The giveaway, which runs from now until July 28, 2017, at 12 p.m. (CT), features a diamond & black onyx fleur de lis necklace in sterling silver from Ramsey's Diamond Jewelers, plus a hand-crafted glass fleur de lis paperweight by Studio Inferno, Mitchel Gaudet's one of a kind hot glass studio that is just past the Orleans Parish line, in Arabi, La.
I'm also including in the giveaway signed copies of Deceived and Jigsaw. Deceived introduces Andi Hutchenson, the heroine in Concierge, while Jigsaw introduces Gabe Hernandez, the hero in Concierge.
Concierge takes place in the streets of the French Quarter and surrounding neighborhoods. To celebrate the setting, other giveaway items in this package include: a copy of Louisiana's Sacred Places, signed by author and photographer, Deborah Burst, whose book features beautiful photography of scenes in and around New Orleans and fascinating vignettes; a CD by Tanya Huang, a violinist who performs on Royal Street in the French Quarter; plus a beautiful pair of hand-crafted, glass bookends by Studio Inferno.
Thank you for helping me celebrate the cover reveal by entering the giveaway. Yes, your email address is required to enter, but don't worry – I'm too busy to write many newsletters and I will not give away your email address.
Stay tuned for more giveaways here and on Facebook as the release date approaches. Good luck!

---
p.s. – in the photo of the giveaway items (above), the neat looking "basket" that holds the books has nothing to do with New Orleans, but I really like it and have one on my desk. It comes from The Container Store, and the one in the photograph is part of the giveaway.
ENTER THE GIVEAWAY
---
Closeups of all the goodies in the Gift Basket
Click the images below to enlarge: